Breitling Elementary School Library Media Center
Welcome to the Breitling Elementary Library! We're glad you're here! For some great links on help with math, reading, social studies, and science, as well as links to our library catalog and Renaissance Home Connect to check on your child's progress on their AR goal.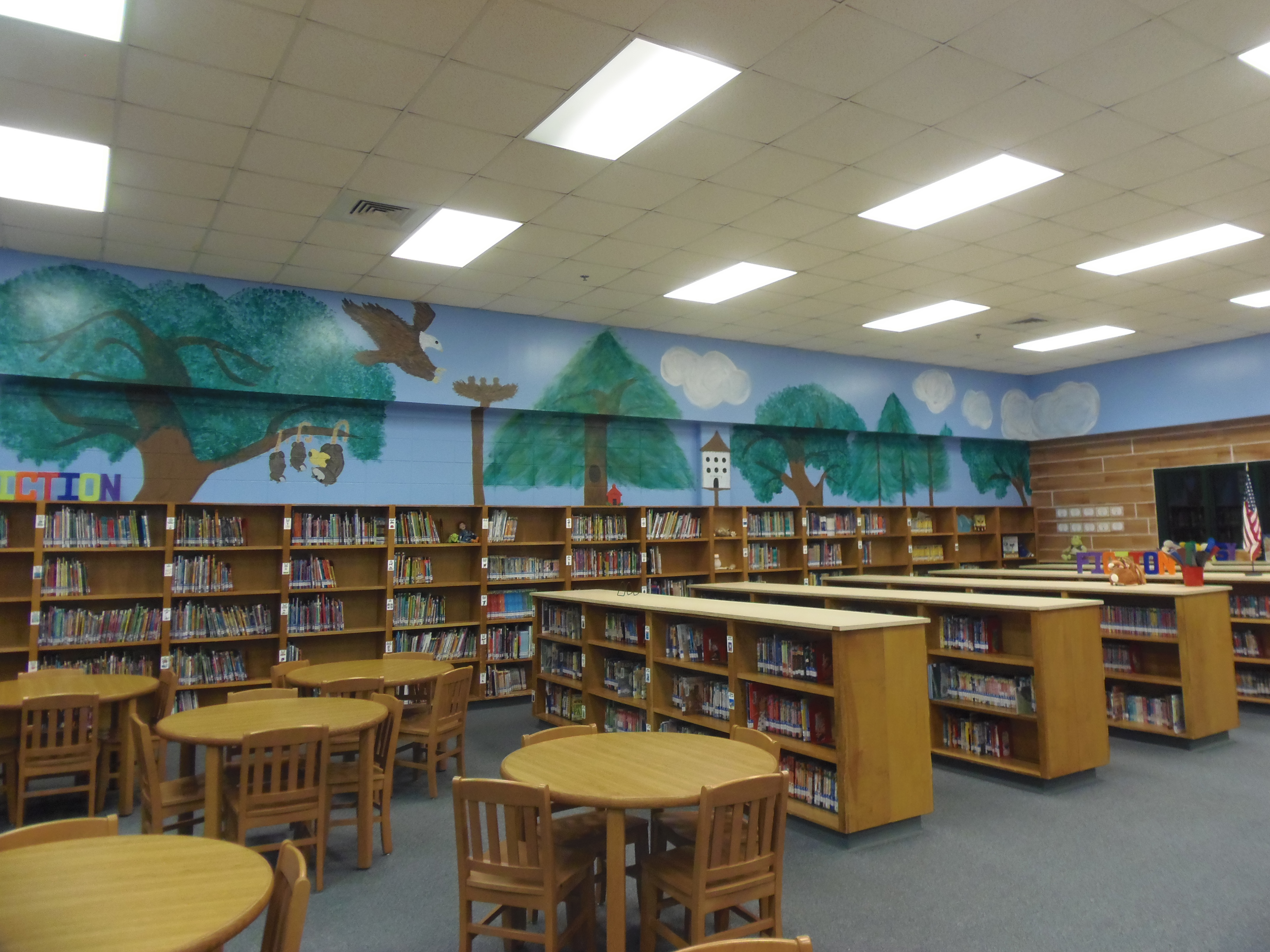 ACCESSIBILITY
The Library Media Center hours of operation are 7:15 a.m.- 2:15 p.m. Students come independently to the library to select books. K - 5 students have weekly library classes.
Renaissance Home Connect
A website that parents and students can check a student's progress toward making their AR goal. Students can also see what they have read and what books have AR tests.
Students user names for kindergarten and 1st grade is their ten digit number located on their library card. Passwords for all students in kindergarten and 1st grade is bears.

Students user names for 2rd through 5th grade is their ten digit number located on their library card. Their password is the four digit number located on their library card.
https://hosted240.renlearn.com/79853/HomeConnect/Login.aspx

Breitling Library Catalog
Click on link to look for library books available at our local school library. Although it is not necessary for students to log in, students can use their user name and password that is located on their library card.
https://mcpss.follettdestiny.com/common/welcome.jsp?site=108&context=saas03_0139762

Mobile Public Library
http://www.mobilepubliclibrary.org/

Renaissance Place
https://hosted240.renlearn.com/79853/default.aspx

Destiny Quest
A kid friendly version of our school library catalog. Students can use their log in information to search for books, write book reviews, and create lists of books for future check out.
https://mcpss.follettdestiny.com/quest/servlet/presentquestform.do?site=108&context=saas03_0139762&alreadyValidated=true

Kids Poetry Page
Click and drag words onto a refrigerator and create your own poetry!
http://www.magneticpoetry.com/kidspoetry/playonline.cfm
Starfall
This site provides all types of reading fun for K-1 students!
http://www.starfall.com
Classic Fairy Tales
Animation is used to retell Grimm, Andersen, and other classic fairy tales. This site includes games and print-out coloring pages.
http://www.classicfairytales.com/en/main
PBS Kids
Clifford the Big Red Dog, Sesame Street, and Jay Jay the Jet Plane provide lots of interative fun.
http://pbskids.org
American Library Association
ALA website has many areas of interest!
http://www.ala.org
Big Universe
Our school will uses an award winning educational website designed to instill the love for reading, writing and learning in your children. We are excited about this literacy tool and think you will be too! For login information, go to forms under the library page.
http://www.biguniverse.com/signin
Reference/Technology/Student Productivity
World Almanac for Kids
A website filled with all kinds of information, including: animals, environment, inventions, nations, populations, U.S. presidents, religion, space, sports, states and U.S. history timeline.
http://www.worldalmanacforkids.com
KidsClick!
A great web site created by librarians! This site lists over 5,000 websites for children. Don't miss it!
http://www.KidsClick.org
Kids Search Engines
Targetging younger students, this site lists seach engines, directories, and guides.
http://www.searchenginewatch.com/links/Kids_Search_Engines/
FirstGov for Kids
A great site developed by the Federal Consumer Information Center, this site contains an abundance of information.
http://www.kids.gov/
Alabama Virtual Library
The Alabama Virtual Library provides all students, teachers, and citizens of the State of Alabama with online access to essential library and information resources. Their online databases have magazine, journal, and newspaper articles for research.
http://www.avl.lib.al.us/
Homework Alabama
Free homework help from subject specialists!
http://aplsnew-web.apls.state.al.us/aplsnew/patrons/homework/index.html
Office 365
Allows students to access their OneDrive accounts, Office Online, OneNote, as well as access to their student email. The second label on student's library cards have their user name and password as well as their email address.
http://365.mcpss.com
Coding
Teaches students how to code. 4th and 5th grade students have been using this to learn how to code.
http://code.org
Typing Program
A free typing program for students.
http://login.learning.com
Basket Math Interactive
A fun site for learning math skills. Answer a question correctly and make a basketball shot.
http://www.scienceacademy.com
Math Cats
Explore math concepts with lots of activities. Create math art and animations.
http://www.mathcats.com
IXL Math
For students in grades 2 through 5 to practice their math skills. Students have access information.
http://www.ixl.com/
Environmental Kids Club
Learn about plants, animals, forests, oceans, prairies, air, water, and recycling!
http://www.epa.gov/kids/index.htm
NASA Kids Club
Learn about space, astronauts, planets, and seasons.
http://kids.msfc.nasa.gov/
U.S. Fish and Wildlife Kid's Corner
Learn how loss of habitat and ecosystems can lead to a decline in biodiversity, and how the Endangered Species Act helps conserve endangered and threatened species. Endangered means there is still time!
http://endangered.fws.gov/kids/#top
Kids Do Ecology
Learn about biomes, marine animals, and conservation projects.
http://www.nceas.ucsb.edu/nceas-web/kids/index.html
Sun Clock and Word Time Zone Maps
An interactive site demonstrating periods of sunlight on Earth.
http://www.worldtimezone.com/datetime.htm
Discovery Education
A website full of resources for students to enhance science and social studies related content.
https://mcpss.discoveryeducation.com/public:session/login?next=http%3A%2F%2Fmcpss%2Ediscoveryeducation%2Ecom
America's Story
For 4th grade and higher: The Library of Congress offers information on the 50 states, period music, archival pictures, and fascinating trivia.
http://www.americaslibrary.gov/cgi-bin/page.cgi
Hymns and Carols of Christmas
Have you ever wondered what inspired the song "Rudolph the Red-Nosed Reindeer" or other Christmas songs? Find some interesting information on this site!
http://www.hymnsandcarolsofchristmas.com/santa/rudolph.htm
History Channel
A description of the first Thanksgiving is provided, including the actual menu.
http://historychannel.com/exhibits/thanksgiving/
"You Are The Historian"
A great source for history for students, teachers, and families. Explore 17th century life in America, including the first Thanksgiving. Click on the Online Learning Center for "You Are The Historian."
http://www.plimoth.org/education
Virtual Marching Tour of the Revolutionary War
A summary of the major battles of the Revolutionary War.
http://ushistory.org/march/index.html
Alabama Unforgettable
Links to Alabama's symbols, facts, cities, and historical information.
http://www.50states.com/alabama.htm
Alabama Department of Archives and History
Learn about famous Alabamians and much more at this Aalbama history website.
http://www.archives.state.al.us/index.html
Alabama Historical Maps
Early maps of Alabama plus an animated immigration map of the United States.
http://www.alabamagenealogy.org/maps.htm
Alabama.gov
Official Web Site of the State of Alabama
http://www.state.al.us/
Early America
Learn about famous early Americans and their contributions to the United States.
http://www.earlyamerica.com/lives/index.html
Presidents of the United States
Information about the presidents, as well as the first ladies, pets, and political parties!
http://www.presidentsusa.net/